I wrote a column yesterday about how our highly-valued U.S. stock market, and the importance of earnings estimates in generating price-to-earnings ratios — which are one of the most pivotal valuation gauges for investors. And a P/E ratio, after all, is only as good as the earnings assumptions baked into it.
I looked at three ways that investors might try to forecast current-year earnings: 1) Use analysts' estimates; 2) Assume results will approximate last year's earnings, and 3) Calculate an average of the last several years' worth of earnings.
Of the three alternatives, analysts' estimates were the worst predictors of S&P 500 earnings from 1996 to 2016. That made my Gadfly colleague Rani Molla and me wonder whether analysts' sophisticated models had any better luck predicting narrower, sector-based earnings.
So we decided to compare the most recent 12-month operating earnings for each S&P 500 sector with 1) Analysts' estimates, 2) Prior-year earnings, and 3) Seven-year trailing average earnings for that sector. Here's what we found: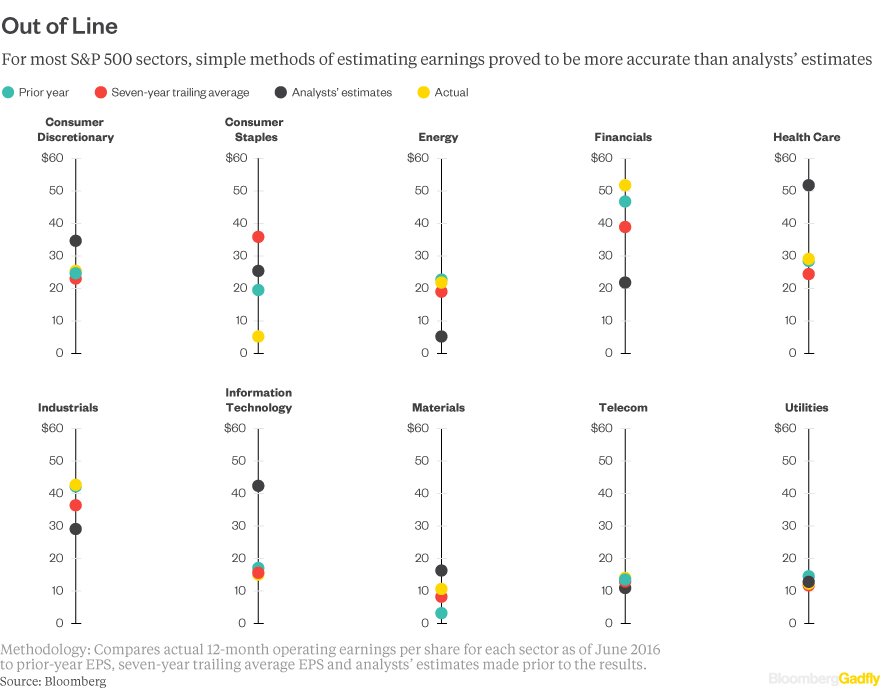 No better luck for analysts here, either. In most cases, the laughably simple prior-year earnings and seven-year trailing average earnings better predicted actual earnings.
Granted, this is just one snapshot in time. But these results, together with a 20-year history of woeful S&P 500 earnings predictions from analysts, prompts two questions: Is there a simpler and more accurate way to estimate earnings, and why are analysts off-target so frequently?
Chart: Rani Molla
Source: Bloomberg Gadfly, https://bloom.bg/2zaMt1Z